M12 X Coded Connector, Field Installation, Gigabit Ethernet Male Connector
Part Number:
M12-M-X-A-08
General Description:
This is M12 X coded ethernet connector with 8 pin soldering terminals. It can ensure the Ethernet cable firmly connect to contact terminals.
Product Description
M12 X Coded connectors conform to IEC 61076-2-109 GbE ( gigabit Ethernet )
Product Features:
Products Type: M12 Circular Connector
Contact Body Type: Male
Coding Type: X Coding.
Plug Type: straight type
Wiring Method: Soldering
Contacts: 8 pin
Installation Method: M12 screw mount
Part Number:M12-M-X-A-08P
Dimensions Drawing

The hole place arranges(Comply with the needle direction)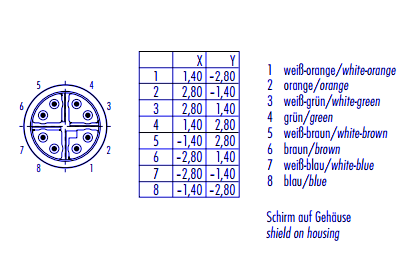 Material and specifications

Coupling Threaded coupling

Shell material Brass nickle plated
Insert material PA66+30%GF
Contact material copper(silver /gold plated)
Termination Soldering
Mating cycle 500
Temperature Range -25℃ ~+85℃
Cable diameter ≤ φ5.0-8.0mm
Specification

Number of Contacts 8
Rated Voltage 48V
Rated Current 4A
Contact Resistance <5mΩ
Insulation Resistance >100MΩ
Temperature Range -20℃ to +85℃

Degree of Protection IP67 when mated
Mating Times 100 cycles
Material of Contact Male Brass/Female Phosphor Bronze ,Gold Plated
* Relative Products & M12 X Coded Connector, Field Installation, Gigabit Ethernet Male Connector